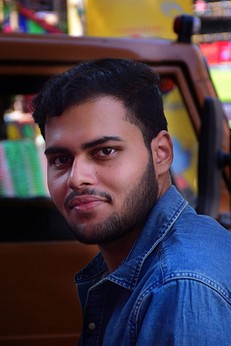 Upayan Chatterjee
I belong from a very regular homely community in the township of Howrah, India, and am currently pursuing a graduation degree in Electronics and Tele-Communications Engineering at Jadavpur University, Kolkata. I am a self-taught photographer and there being so many beautiful ways to photograph, the learning process is never-ending. Find my best photo-stories and news updates on Visura
Over time, recognition of my work through publication in Photographic Journals and mainstream media, has been an extremely important and necessary source of inspiration. I have, to this date, contributed to the International Lens Magazine over two issues, the prestigious Black and White Photography Magazine ( ISSUE 243 ), the Evoke Inspire Column of the Times of India newspaper alongside publications in local language magazines and online platforms including the New Journalist Magazine, National Geographic Traveller India, F-Stop Magazine, FORMAT Festival and others.
I co-founded a Visual Arts platform, The Fleeting Moments in 2019, which went on to be featured as the Artists of the Month for October 2019 at Artsy-Coffee and Culture, Kolkata. We had our work displayed on the walls of the Cafe and sold prints for the entire month. "The Tales" is available online in the form of an online gallery, with all details pertaining to the platform and the particular event. It has been an amazing journey since then, and we currently are a family of more than 50 individuals, interacting through Photography, Art and Creative Content pertaining to Visual Storytelling.
ON THE GALLERY WALLS :
Kaleidoscope Photo Gallery of the Kolkata Short Film and Photography Festival ( KSFPF ) 2019 marked my first major exhibition experience in Kolkata
THE COALESCED appeared at the "Ras Se Bana Banaras" event, hosted by the City Experience Festivals, and was displayed at the India Habitat Center in New Delhi from 28th September to 13th October, 2019
My photographs were installed at the iconic Jamini Roy Gallery ( The Indian Council for Cultural Relations ), Kolkata as part of the Indo-Russia Cultural Exchange Event in 2019
It is a special memory to have had PAYING HOMAGE displayed on the walls of Academy of Fine Arts Gallery, Kolkata as part of the Photography Club of India Annual Exhibition, in January, 2020
My journey in the field of photography was largely inspired by nature and it continues to inspire me. I hope to grow into the nuances in nature by contributing towards conservation through storytelling. This has been a dream for me, as it has been for Soumadri and together we have completed certificate courses in Conservation at the National Geographic Society and continue to document species at urban bio-diversity hotspots.
My article tracing my personal relationship with a major urban biodiversity hotspot appeared country-wide on the Times Evoke Inspire column of the Times of India newspaper and online website. Read the entire article here.
Thank you for reading this far and taking interest in what I do.
LATEST : Catch up on a recent expedition to the pristine water-bird habitat of Purbasthali in Bardhaman, West Bengal, India